Apostille (legalisation)
of documents issued in the Slovak Republic
Legalisation of the issuing body. An Apostille is attached to the original document, so you might also need an official translation. The price for such translation is usually 30 EUR per standard page. Countries:
EU and most of the developed countries complete list
. Price: from
102 EUR
Period of delivery:
1-5 days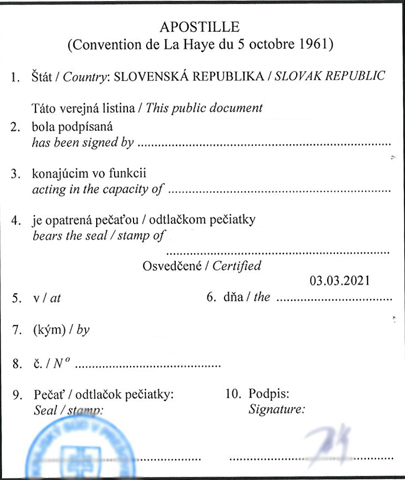 What type of documents are apostilled?
Vital records
birth certificate
marriage certificate
death certificate
certificate of no impediment
confirmation of marriage
divorce decree
certificate of divorce
Personal documents
passport
identity card
driving licence
Education or qualification certificates
school reports
diplomas
diploma supplements
certificates of education
Business Register and Trade Licence Register
trade licence
extract from the Business Register
certificate of data registration in the Business Register
Business, enterprises and companies
articles of association
affidavits
powers of attorney
contracts with business partners
memorandum of association
Criminal Records
extract from the criminal records
Apostille attestation process
Find out how much it will cost and when it will be ready.
You can send the original documents to our mail address or deliver them in person to our reception.
We will arrange for the document to be apostilled, or officially translated where necessary.
Delivery of a legalised document
We will deliver the document to you in person or by courier. We can arrange most of the legalisations within 1-5 days.
Thousands of verified documents, great ratings from clients and 0 complaints.
We will take care of everything for you, so you do not waste your time and nerves running around the offices.
Most offices have a 30-day deadline to verify the documents, we will manage 90% of the verification within 1-5 days.
You can be sure that the original will not get lost anywhere, we send it by courier and keep it in the lawyer´s file.
The director of the legalisation centre is an authorised lawyer
Which countries require apostilled documents
Albania Andorra Antigua and Barbuda Argentina Armenia Australia Austria Azerbaijan Bahamas Bahrain Barbados Belgium Belize Belarus Bosnia and Herzegovina Botswana Brazil Brunei Bulgaria Burundi Cape Verde Croatia Colombia Costa Rica Cyprus Czech Republic Montenegro China Denmark Dominica Dominican republic
Ecuador El Salvador Estonia Fiji Finland France Germany Great Britain Greece Grenada Georgia Guatemala Honduras Hong Kong India Ireland Iceland Israel Italy Japan Kazakhstan Kyrgyzstan Kook Islands Korea (South) Kosovo
LatviaLesotho Liberia Lichtenstein Lithuania Luxembourg Hungary Macao Macedonia Malawi Malta Morocco Marshall Islands Mauritius Mexico Moldova Monaco Mongolia Namibia Netherlands Nicaragua Niue Norway New Zealand Oman Panama Paraguay Peru Poland Portugal
Romania Russian federation Salvador Samoa San Marino Serbia Seychelles Slovenia Suriname Swaziland St. Lucy St. Kitts and Nevis St. Thomas and Principal Island St. Vincent and the Grenadines Spain Switzerland Sweden Tajikistan Tonga Trinidad and Tobago Turkey Ukraine Uruguay United States of America Uzbekistan Venezuela